Optimism and Happiness Abound
Martin's collection of Christian faith-inspired poetry provides a certain sweetness.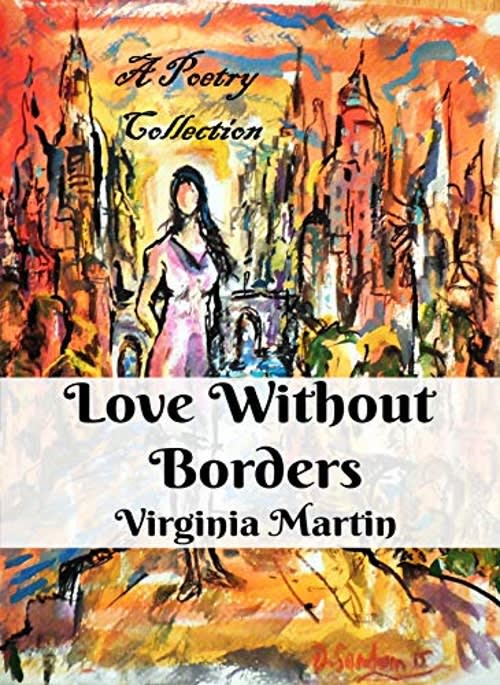 Virginia Martin's collection Love Without Borders (published in 2017) is the third volume in a six part series. Readers will immediately discover that Martin's poetry is full of encouragement, optimism, and sweetness, served with a heavy Christian influence. Though these pieces do toe the line of falling (and actually do cross over a few times) into the realm of mawkish or sentimental work, their unabashed zest for life is undeniably cute.
Many of Martin's poems could also be interpreted as prayers, which lends itself to a question still hotly debated today by such poets as Kaveh Akbar–what exactly is a poem? Martin posits her own theory, "Poetry is… / led by feelings and raw emotion / That rise from the innermost / Part of the heart." Her definition is just as valid as any.
She also delivers some decent life advice through the poem, "Slow Down." The speaker urges the book's readers to "slow down, take in life, breathe / Notice a bird flying in the air / Hear its chirping in the wind / Find beauty in the simple things." Her optimism continues to glow on the page through the words of "Rainbow." In the poem, the speaker gazes upon an awe-inspiring rainbow, "wishing it would stay / But hopeful it would be back / After another rainy day." In addition to spreading messages of hope, Martin pays homage to an invaluable part of human life–friendships. She declares that "the confidant, memory maker, partner in crime / Supporter in the good and bad" are "…indeed the essence of life." She sweetly extols the virtues of friendships, and the immense impact these relationships can have.
The poems are generally easy to breeze through, but readers may find themselves stuck on "Happy Housewife." In the piece, Martin describes a homemaker whose constant mantra is "Hurry, hurry," as soon as she wakes up. Springing into action by "making coffee for my honey and bringing it to bed" before continuing on with a litany of chores. The poem then ends with a line of inquisition which could only be assumed to be coming from "honey": "What do you mean you are too tired for intimacy?"
It is clear that Martin means to use that line as a wry joke to illicit a chuckle from other hardworking homemakers, but it also highlights the extremely unbalanced distribution of labor that many couples find themselves taking part in. While there is nothing at all wrong with being a 'stay at home spouse,' reading about a stay at home spouse who becomes so inundated with tasks and chores that they are unable to carve out any time for themselves, and witnessing the other spouse appear to be oblivious as to why their counterpart is tired at the end of the day is cringe inducing. Was it Martin's intention to highlight this inequality issue in the home? Or is she continuing to naively participate in it? The answer is one that must be found out by the readers.
While the formatting of Martin's poems is not particularly inspiring, the setup of her poetry collection is, in fact, rather unique–not in its ultimate construction, but in the addition of providing what is called a 'Poetry Bonus Section.' Here, instead of Martin's own work, readers can discover the poetry of her friends and family. This addendum reflects the friendly attitude, which radiates from Love Without Borders.
The language of Martin's poetry is uncomplicated, which allows it to be enjoyed by a broad audience; however, due to its religious foundations, this collection may not appeal to all readers. Though it is nice to note that Martin's poetry is unabashedly optimistic, and does not try to be anything other than what it is.